June 19, 2020

The Park Center for Independent Media circulates the Indy Brief, a weekly selection of news stories from journalism outlets operating outside traditional corporate systems and news organizations.
Co-Creation in Documentary During Pandemic and Protest
Cosponsored by the Park Center for Independent Media and Afterimage: The Journal of Media Arts and Cultural Criticism
WEDNESDAY, JUNE 24, 4-5:30 p.m. Eastern Daylight Time
Register for the Zoom webinar HERE:
https://us02web.zoom.us/webinar/register/WN_L8piUwo3R2etoMnHjRGqOg
Speakers:
Karen Van Meenen, Editor, Afterimage
Reece Auguiste, Associate Professor, University of Colorado
Helen De Michiel, media artist and writer, San Francisco Bay Area
Brenda Longfellow, Professor, York University, Canada
Dorit Naaman, Professor, Queen's University, Canada
Patricia R. Zimmermann, Professor, Ithaca College
Moderated by Raza Ahmad Rumi, Director, Park Center for Independent Media, Ithaca College
In partnership with the Park Center for Independent Media at Ithaca College and Afterimage: The Journal of Media Arts and Cultural Criticism, join us for the launch of the special Afterimage dossier, "Co-creation in Documentary: Toward Multiscalar Granular Interventions Beyond Extraction."
All five dossier writers, leading figures in documentary practice and theory, will present in a salon that focuses on co-creation practices, documentary, the pandemic, and protest. Hear their insights in an engaging live format meant to offer considered commentary and robust dialogue.
See more about the speakers here.
Access the full dossier here, with free access through the end of 2020.
See the Facebook event here.
The Headlines
U.S. Politics
DACA Court Ruling Beats Back Trump — For Now (The Center for Public Integrity)
Supreme Court Ruling Ensures Protections For LGBTQ Workers (The Center for Public Integrity)
Nazis Put This Symbol on Political Opponents' Arms. Now Trump is Using It. (Mother Jones)
Racial Justice and Police Reform
Calls to Make Juneteenth a Federal Holiday Get Louder (Colorlines)
The Rebellion Against Police Repression Must Guard Against ALL Enemies, Whether Red, Blue, or Green (Black Agenda Report)
We Still Don't Know How Many Americans Police Kill or Injure Every Year (Mother Jones)
COVID-19 and Economy
The Stock Market Is Recovering. We Are Not. Congress Is to Blame. (Truthout)
Climate Crisis
Wheeler in Wisconsin: Putting a Green Veneer on the Actions of Trump's EPA (InsideClimate News)
U.S. Foreign Policy
John Bolton, Donald Trump and the Foreign Policy Disaster Awaiting the Next President (Salon)
Trump DESPERATELY Fighting Release of EMBARRASSING New Book from John Bolton (The Young Turks)
Two Progressive Supreme Court Rulings Provide Protection
On Thursday, over 700,000 so-called Dreamers breathed relief after the U.S. Supreme Court ruled against the Trump administration's attempt to strip young immigrants' legal work permits and protection from deportation.
The 5-4 ruling named former Trump Attorney General Jeff Sessions' attempt to terminate the Deferred Action for Childhood Arrivals program (DACA) "arbitrary and capricious." This ruling leaves open the future possibility of rescinding DACA on more sound legal grounds, says The Center for Public Integrity.
This followed Monday's 6-3 progressive Supreme Court ruling that extended workplace antidiscrimination laws on the basis of sex to include sexual orientation and gender identity. This partly stitches up some of the U.S.'s state-level patchwork antidiscrimination laws.
Trump Uses Nazi Concentration Camp Symbol
A recent Facebook ad series from Donald Trump's campaign disparaging antifascists features an inverted red triangle symbol—an explicit piece of Nazi iconography used to designate political prisoners, including antifascists and rescuers of Jews, in concentration camps.
Mother Jones notes that millions of soldiers, including hundreds of thousands of Americans, died fighting fascism in World War II.
Trump's campaign had purchased 88 ads using the concentration camp badge symbol, which Facebook removed for using a "banned hate group's symbol to identify political prisoners without the context that condemns or discusses the symbol."
Trump has a history of Nazi references, including a 2016 Twitter image of Hillary Clinton next to a red Star of David.
Racial Justice and Police Reform
Loudening Calls to Make Juneteenth a Federal Holiday
June 19 marks the day in 1865, two years after the Emancipation Proclamation was signed, when enslaved people in Texas finally had word of the Civil War's official end and of their freedom.
Today, as protests against racial injustice and police brutality continue, advocates for Juneteenth's recognition note increased momentum for distinguishing the date as a federal holiday, Colorlines reports.
Every year, Texas Congresswoman Sheila Jackson Lee introduces a resolution to recognize Juneteenth. This year's, which gathered over 200 co-sponsors, encouraged Lee to also introduce a bill making it a federal holiday.
New York Governor Andrew Cuomo and Virginia Governor Ralph Northam, along with some major corporations, announced this year that they will recognize Juneteenth as a paid holiday for employees.
Black Rebellion Against Red, Blue, and Green
As the masses mobilize across the U.S., rejecting the police murder of George Floyd and Breonna Taylor, public opinion on U.S. policing has shifted dramatically in just three weeks and the powerful aim to placate.
Corporations released supportive statements, NFL commissioner Roger Goodell apologized for the league's role in minimizing discourse on racism, and Democratic Party leaders kneeled in Kente cloth for a photo op before introducing police reform legislation.
The movement against the centuries-old war on Black America has clearly defined some enemies so far: police, local governance, and the Trump administration. But Black Agenda Report warns that the movement now has the attention of a broad and strong enemy class. Red or blue, leaders answer to the green of capitalism and support its police bodyguards.
In the Dark on Yearly Police Killing and Injuring
Mother Jones analyzes the insufficient metrics available to quantify yearly use of force by police officers.
Both the CDC and FBI log police killings, but their data are known to be incomplete. One of the best-maintained sources on police shootings comes from the Washington Post, which has documented twice as many killings as these databases.
According to the Post, almost 5,000 people have been fatally shot by police officers since 2014. A third of them were Black.
But as this count only includes shootings, other methods of killing, such as the chokeholds used to murder George Floyd and Erik Garner, aren't included in the data. Activist and journalist databases provide more comprehensive counts of deaths, but not injuries.
There must be reliable data to promote police accountability.
Blame Congress for Persistent Unemployment
Though the stock market has nearly recovered to pre-coronavirus levels, over 44 million people remain unemployed, including 40% of workers making less than $40,000 a year.
But with the market's improvement, Senate Majority Leader Mitch McConnell is uninterested in further action. Federal response so far has been unequally helpful, with many plans bailing out the wealthy and disproportionately benefitting officials who helped design the programs.
Truthout details copious instances of backwards relief and incessant inaction from Congress in the face of mass layoffs and dying small businesses.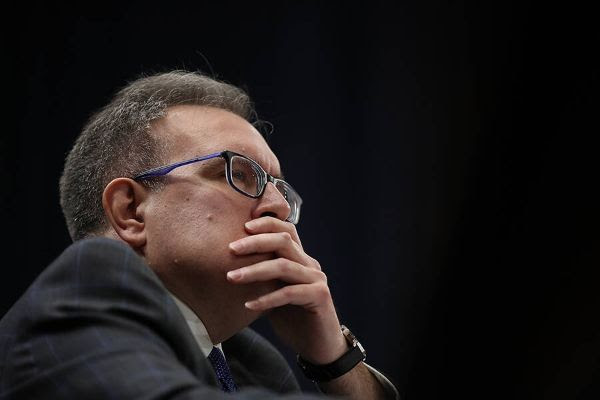 A Green Veneer on Trump's EPA
On Tuesday, the Trump Administration's Environmental Protection Agency administrator Andrew Wheeler declared victory over air pollution in chronic smog hotspot Sheboygan, Wisconsin.
Trump's EPA accomplished the farce by redrawing a line on a map to exclude a shoreline air monitor with higher pollution readings—leaving the "inland" monitor to meet the federal ozone standard, reports InsideClimate News.
Environmental and health advocates, EPA's own scientists, and the findings of a major regional study last year doubt the claim of lifted smog in Sheboygan. And a federal court is weighing whether the Trump administration violated law in the "creative redrawing."
The designation allows for rollback of air pollution equipment requirements and emissions testing for vehicles in the region. It follows a pattern of putting a "green veneer" over the Trump administration's environmental gutting.
John Bolton, Donald Trump, Foreign Policy Disaster
The book former National Security Advisor John Bolton wrote providing an insider account of Donald Trump's presidency, "The Room Where it Happened," reveals disastrous foreign policy issues for the next president, writes Salon.
The Young Turks point out that Bolton's criticism of Democrats' narrow impeachment investigations, while accurate, comes hypocritically from him, as he refused to testify—presumably so he could profit from his book. "His own personal ambition and greed outweighed national security interests."
Bolton's account affirms much that was already evident, such as his claim that Trump's "singular concern is getting re-elected." He says Trump asked Chinese President Xi Jinping to help him win reelection. Trump reportedly thought "it would be cool" to invade Venezuela and wanted to grant white South Africans both "asylum and citizenship."
The next president's foreign policy must avoid the trap of a bolstered military approach to buck Trump's capricious decisions on the world stage.
In Other News
1. Trump wraps arguably one of worst weeks of presidency as Republican strategists fret about November (The Independent)
2. Black Joy—Not Corporate Acknowledgment—Is the Heart of Juneteenth (The Atlantic)
3. Trump Threatens Protesters Ahead Of Oklahoma Rally (HuffPost)
4. Breonna Taylor: Louisville officer to be fired for deadly force use (BBC)
5. Thousands celebrate Juneteenth with anti-racism marches across US (The Guardian)
You can reach the Park Center for Independent Media at bhawley@ithaca.edu.

The Indy Brief is edited by Jeremy Lovelett.

Read previous Briefs and more from independent media on the PCIM website.

The Center's mission is to engage media producers and students in dialogue and action about independent media, especially US-based outlets producing content (across single- or multiple-content platforms) on issues such as equity, social justice, and sustainability.